The children of the parish are invited by Father Mckay to celebrate the Liturgy of The Word with their own catechists at 11am Sunday morning Mass
Offering the children a Liturgy of The Word, which is suited to their age and adapted to their stage of development, can become one of the key ways of helping them grow in faith.

The Children's Liturgy is a real and positive route to help the children develop into real and informed Christians. It also illustrates to them that the word of The Lord has a natural and important place in their daily lives. By allowing the children the opportunity to participate at their own level, to be active, and to be involved, helps to build a healthy relationship between The Liturgy and their daily living. It also provides the children with a strong base for sincere and lasting faith.

The children gather in the Church and begin the Mass with everyone else. After the Sign of the Cross and the Greeting, the Priest calls the children forward, presents them with a Bible and the adult leaders process with the children to the "upper room" The children come back into church at the offertory where they display what they have done and then some of them take part in the Offertory procession.

If you would like to help with this important ministry, please let Father or Veronica know. Following a mandatory PVG check We will welcome you in joining our team of dedicated volunteers.
This is not a closed group – all primary school age children in the Church are welcome and encouraged to attend

Online Fun… while you are waiting for next weeks childrens liturgy here is a link to some fun online activities you may want to try http://www.bibleactivitieszone.com/
The Epiphany
This Sunday marks the last day of the Christmas season. There are really twelve days of Christmas, and today is the twelfth day. Today, on Epiphany, we remember the wise men who went to find Jesus. The wise men also followed a light in the sky. They followed a bright star, That star led them to something sovery special That star led them to the new king of heaven and earth; the star led them to Jesus, born in Bethlehem.
Christmas is a beautiful time of the year. Decorations go up all over. Christmas trees are lit with thousands of lights. Beautiful nativity scenes are displayed in churches and homes. For some people, the brightness and beauty of Christmas is only something to admire and enjoy from a distance. But God doesn't want us to just admire Christmas, he wants us to follow the star to the manger. He wants us to kneel down next to the baby Jesus and offer our whole selves, heart and soul, to the King of heaven and earth.
The Christmas star was sent by God to announce the birth of a Saviour. It shone brightly in the sky to lead people to the manger. The wise men must have admired that new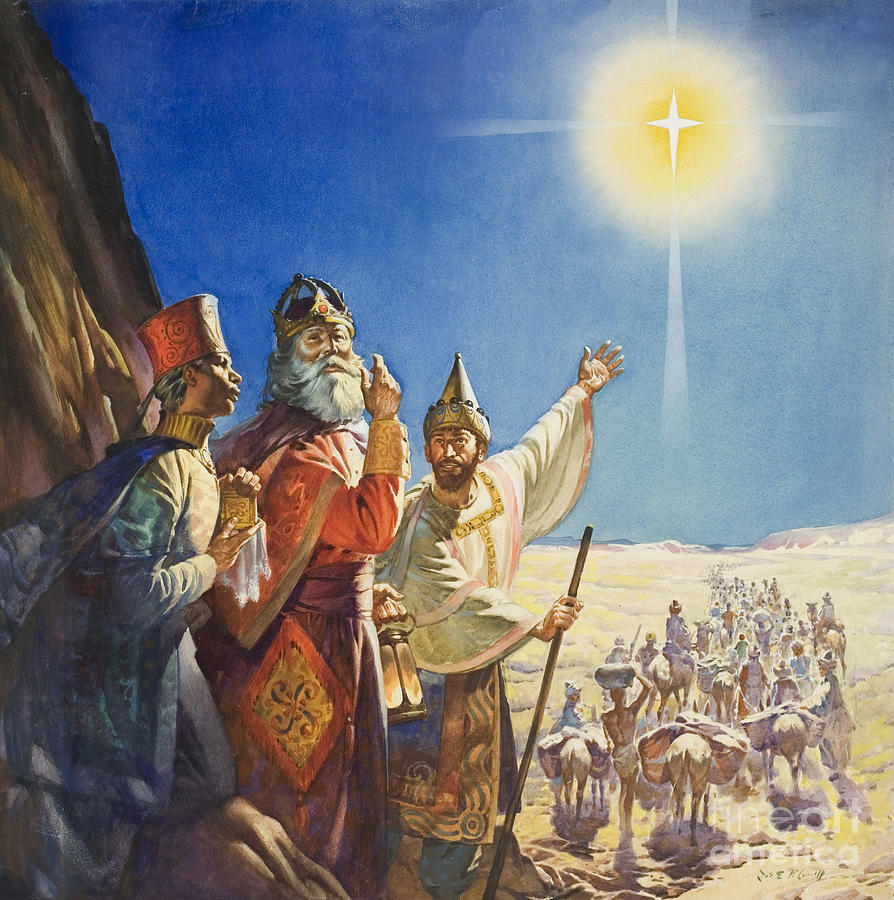 brilliant star in the sky, but if they had never made a move to follow it and search for the king, they never would have found Jesus.
.We can't travel back in time two thousand years to kneel at that manger, but we can kneel down on this day, on Epiphany, and invite Jesus to come into our hearts to stay. We can open our hearts to him for the first time or invite Jesus to fill us again with his spirit of love.
Prayer: Dear Jesus, may we always follow the star to the manger. Thank you for coming to earth as a little baby. We welcome you into our hearts this Epiphany and throughout the coming year.
13th January 2019
The Baptism of Jesus
Sometimes, when we meet a friend we say, " Hi, what's new?"
It has only been a couple of weeks since Christmas, so if I were to ask you, "What's New?" you would probably have a lot to tell me about new games or toys you have.
All of us like new things, don't we? Don't you just love the look and feel of new clothes? Well maybe children don't get as excited about new clothes as we adults do, but I am sure you get excited about new toys and games! You have probably spent hours playing with these too.
One thing I really enjoy is a new beginning. We are at the beginning of a new year. What an exciting time! It is a chance to start over. It is a time to try to do things better than we did last year.
Today, maybe we could think about another new beginning . It is better than the beginning of a new year — it is the beginning of a new life.
A new life with Jesus.
In today's Gospel we hear about a man called John the Baptist. John went all around the countryside in Judea telling people to repent and ask God to forgive them of their sins. He was doing this not to be better than Jesus, but to help Jesus. By telling people to feel sorry for their mistakes and to ask for forgiveness. By teaching that they needed God in their life he was preparing the people to hear from Jesus himself.
John was a man who wanted to live a very simple life. He felt that having a lot of things wasn't important; instead he travelled the desert and told others about what good things God was doing in his life, and how God could do good things in their lives. When they confessed their sin and asked God to forgive them, John baptised them in the river Jordan. They were baptised to show the world that God had forgiven their sins and they were washed clean. This was a new beginning for them. As people were coming to John to be baptised, they were wondering if he was the Saviour they had waited for. John heard what they were saying and he told them, "I am baptising you now, but very soon someone greater than me will come. He is so great that if He asked me to carry His shoes it would be an amazing honour."
John continued to preach and baptise people until one day Jesus came by to be baptised. John didn't know what to say; all he thought was, "how could I, just a regular man baptise Jesus the Saviour of the world?"
John said to Jesus, "You should be baptising me. I cannot baptise you Lord." Jesus replied, "It's important that I do this now. I am ready and I want to be an example to others and show them that it's important." So John took Jesus and baptised Him.
As soon as Jesus was baptised the Holy Spirit came like a beautiful white dove and a voice from heaven said, "This is my Son, I love Him and I am pleased with Him."
When we are baptised as babies our Parents and Godparents promise to teach us how to live like Christians and show God's love to all; and then when we are Confirmed we promise to try to continue to live like Christians ourselves and share God's love with everyone.

Now, that's what I call a new beginning! 
Dear Jesus help us to see each day as a new beginning and as we say our morning prayer help us to grow in love and kindness all over again!
Oh my God you love me, You're with me night and day. I want to love you always in all I do or say. I'll try to please you Father, Bless me through the day, Amen.